Innovation has been spurred on by the growth of tech in enterprise as a business.
At nChain we foster a culture of innovation. Innovation isn't a buzzword to us, it underpins why we want to secure the Internet of Value, and how we're going to do it. In this blog, we're going to explain just how intrinsically this value is rooted in the company's mission.
As the old adage goes, "the only constant is change".
Innovation is the mother of disruption. Disruption, by definition, guarantees change. Look at any invention at the time of launch, many technologies that are fundamental to the way we live today, faced significant resistance. When Motorola introduced cell phones in the United States in 1973, they were dismissed as toys for the rich. It wasn't until the 1990s that mass adoption began to occur.
Innovation promotes constant change, with its continual battle against the status quo. To create new products, experiences or value, the old needs to be broken down, replaced or optimised.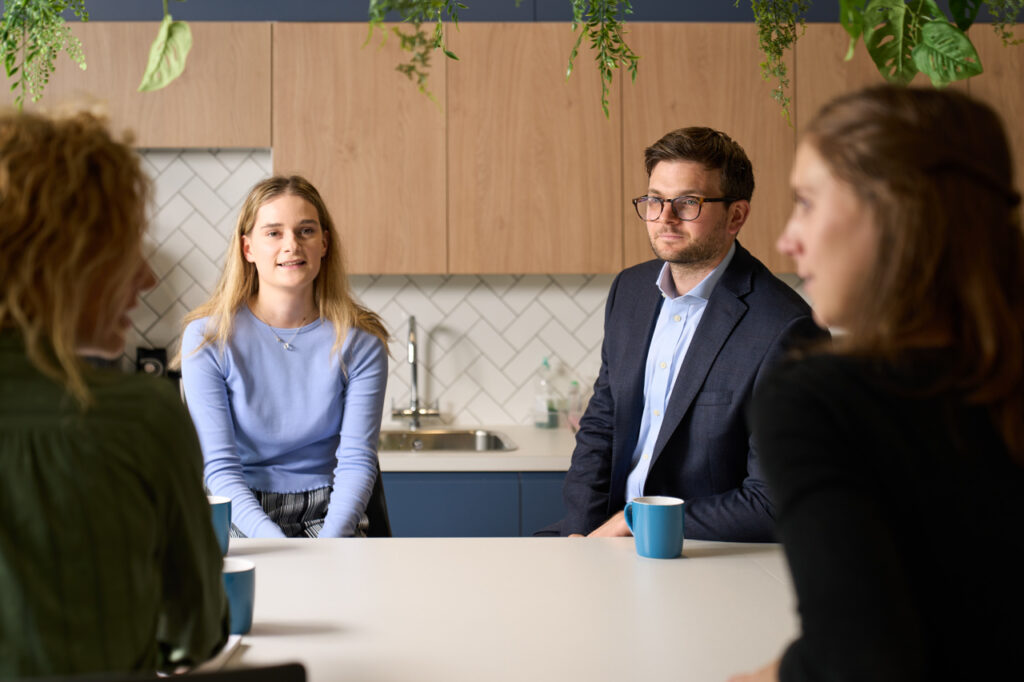 So how do we foster a culture of innovation? 
It's part of the nChainer DNA, from the CEO to the assistant. A few months ago, we conducted an internal brand survey, and when asked to describe nChain in one word, the most common answer was 'innovative' or 'future-focused'. To us, that's a signal of a unified organisation, 250+ people aligned towards the same goal. 
Our innovation: our products and our solutions, is an integral part of what sets us apart in the blockchain space. Pushing boundaries of what's perceived as possible, is woven into the fabric of our organisation. All our efforts begin with a relentless focus on identifying our customers and market problems and needs, and then we explore innovative solutions that bring additional benefits in new ways. That's where the years of research add value, the depth of knowledge and first-hand expertise obtained to set the foundation for solutions we are developing.
The way we look at culture is not linked to providing free-flowing beer and a games room. It's not about applying pressure to work harder and longer. We attribute personal satisfaction and passion for the work as two of the main tenets of our culture. Here's what our Director of HR & Talent, Nina Tchitava, has to say about it:
"At nChain, we believe that culture has a massive impact on employee attraction and retention. Our people are our biggest asset, and a culture of innovation allows our people to feel a sense of challenge and accomplishment, which is a huge factor in employee satisfaction and growth." 

Nina Tchitava, Director of HR & Talent
Since 2015, nChain has created and nurtured a culture of innovation using 5 ingredients. 
1. Diversity
Teams at nChain are diverse and collaborative. nChainers are encouraged to forge new partnerships, collaborate, and accelerate new ideas to market. This was demonstrated in a workshop held earlier this year in Brighton. Teams were formed, comprising individuals across all departments at nChain to participate in our 'innovation incubator'. This served as a platform to accelerate innovation by seeking out people who do things differently and respect the strength of diverse backgrounds, perspectives, and ideas. This workshop also allowed people's voices to be heard, to get involved and to contribute to the steering of the company. Diversity by design is also observed in our hiring process, we value transferrable skills and our most recent hires hail from SAP, Visa and Accenture – global brands that have excelled at placing the customer at the centre of their initiatives. 
2. Purpose
Clarity allows people to link the task or project they're working on back to the mission, if there is no straight line, they know they need to ask questions, re-evaluate, and reorient their direction. Communicating the mission is paramount to nurturing teams that are aligned and purpose-driven. At nChain, we have a quarterly all-hands-on-deck meeting, where the entire organisation gathers in real life, or virtually. This time is used to celebrate innovation, introduce new hires, encourage cross-departmental collaboration, and share progress updates on products and projects. Our sales teams are also constantly talking to industry leaders across various sectors to understand the market pain point and generate ideas for product use cases that support our mission of 'Securing the Internet of Value'.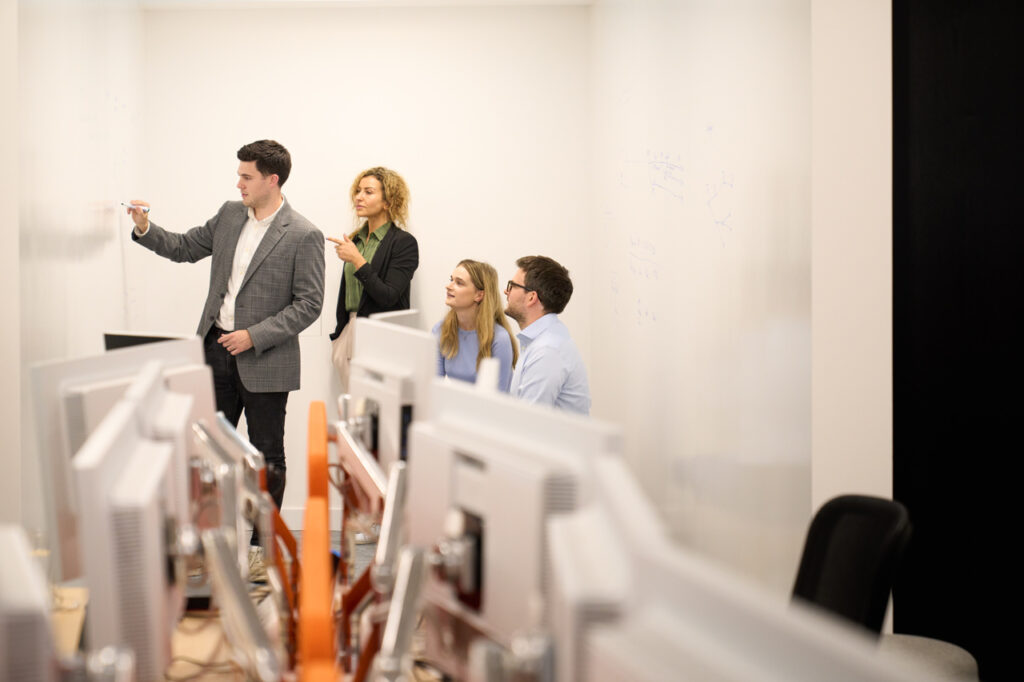 3. Curiosity
We understand that failure is part of the process and at some point, it's inevitable to progress. All great innovators faced failure along their journey of invention. However, by channelling an attitude of curiosity we can choose to fail smart and fail upwards. It's a safe space to experiment, which allows the naturally curious mind to learn and pivot. Employees are encouraged to ask questions, challenge the status quo, and push past boundaries. In an industry as nascent as blockchain, maintaining a high level of curiosity is instrumental to driving innovation, and building analytical skills enables experimentation at scale. This is nurtured through our weekly Lunch & Learnsessions, where an nChainer is given the opportunity to share insights into their role or project they're working on. 
4. Empowerment
Micro-managing isn't our style, and we believe it stifles creativity. Instead, we focus on providing the tools and resources to leverage the skills our employees need to do their jobs effectively and self-lead. An empowered employee will have the confidence to challenge assumptions and old ways of doing things. Empowerment is built on a foundation of trust, where transparency and personal accountability are essential. The pandemic taught us to be flexible and we've continued to offer a hybrid work environment that allows our employees to manage their own time, and work from a place that also works for them. Empowering our colleagues also means challenging ourselves to grow on an individual level, as well as a collective.
5. Knowledge
We are part of the tech industry, so this might seem obvious. Our research team is constantly working on patents that leverage new inventions that will support emerging technologies and their application. By constantly researching and testing our theses, we can create solutions that position nChain at the cutting edge of blockchain technology. We understand the power that comes with combining knowledge and technology, and it's our mission to drive these ideas into market-ready products. Our goal to build a better internet is an ambitious one we know, but ultimately we have the knowledge and expertise. 
"nChain should be a synonym for 'Quality' of research, 'Innovation' of future tech, and 'Enablers' of our IP. We are embedding our knowledge of the tech and the industry within our products. Our talent pool comes from everywhere, in different industries, the blend/fusion of skills, backgrounds and experiences make for innovative solutions" 

Hakan Yuksel
Innovation is hard to define and each person who used that word to describe nChain would probably give a variation of a few different answers. Innovation doesn't necessarily have to manifest in ground-breaking products or inventions, sometimes it's as subtle as internal processes, new solutions to existing problems or working on ideas that would accelerate the adoption of new technology. But whatever your definition, the most important thing is moving the needle forward, each day, each month and each year. And that's what we're doing at nChain. 
If this sounds like a company you want to work for, check out our open positions now.