From 21-23 July, the historic Royal Hospital Chelsea hosted London's beloved Savour Food Festival. nChain proudly partnered with Roald Dahl's Marvellous Children's Charity, bringing together a vibrant celebration of flavours and experiences. The festival transformed the Royal Hospital Chelsea into a bustling hub of gastronomic joy. With enticing food stalls, captivating live cooking demonstrations, interactive workshops, and enchanting performances, attendees were immersed in a weekend of delightful indulgence.

The Savour Food Festival wasn't just about indulging in delicious treats; it also aimed to make a positive impact on the local community. Those attending the event had the opportunity to add on an optional donation to charity when purchasing their tickets. This donation will go towards supporting the network of over 100 Roald Dahl Nurses who currently support over 32,000 seriously ill children across the UK. Together, nChain and Roald Dahl's Marvellous Children's Charity are committed to bettering the lives of seriously ill children, providing them with the care and support they need. nChain is proud to help in supporting the fantastic work they do.

To help raise funds for Roald Dahl's Marvellous Children's Charity, nChain hosted a VR experience for visitors of the festival, over a three-day period – raising a total fund of £350. We were also proud to make a further donation of £5,000 to support the charity's work.
During our time at the festival, we offered attendees the chance to immerse themselves in a VR experience. Participants explored sprawling landscapes and learned about the natural wildlife inhabiting a variety of the planet's biomes. Our goal was not only to pique the interest of those who took part, but also to raise awareness of the important task of preserving these habitats and the wildlife which inhabits them.
The experience provided a powerful means to educate, inspire and drive appreciation for wildlife and conservation of natural world. At nChain, we believe in driving positive social change and empowering the wellbeing of the next generation through innovative technology, and we're committed to making those technologies more accessible to public. By teaming up with Roald Dahl's Marvellous Children's Charity at the food festival, we achieved that goal. nChain will continue to use technology to empower charities to bring their message to a wider audience and to have a greater impact on the world.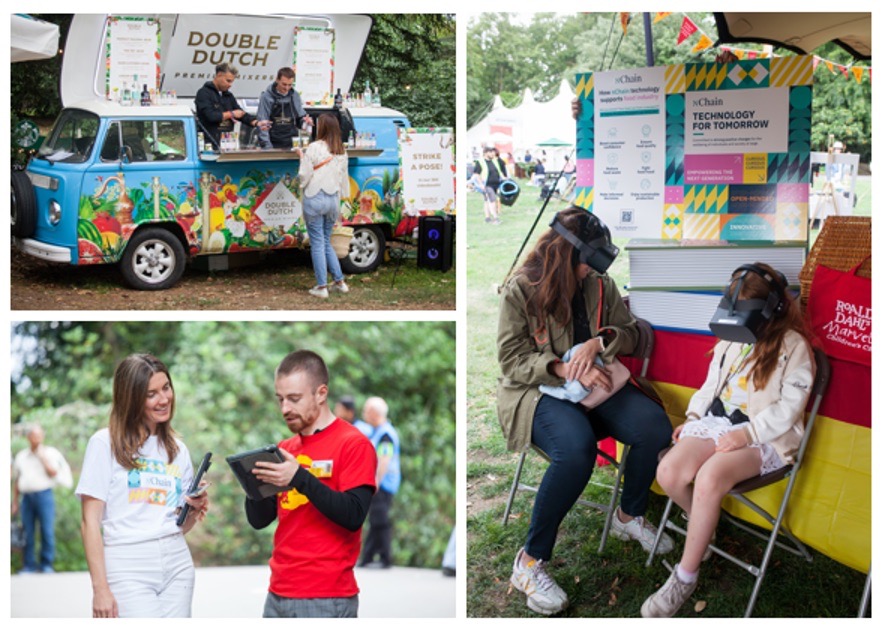 The food industry is a key area where we see the potential of emerging technology to drive positive social change, through improving transparency to increase food safety and standards. With the gastronomic community out in force at the food festival, we had the chance to gain consumer insights towards food traceability, provenance and its journey from farm to table.
One way we achieved this was through a survey aimed at attendees, gauging their level of interest in the topic of food processing. 70% of participants expressed interest in the subject, with 50% indicating that they were 'very interested'.
We dug deeper into what aspects of traceability were most important to these passionate food enthusiasts, vendors, and culinary experts. The top areas for enhanced visibility selected by survey participants were:
Presence of hormones, steroids and antibiotic (21%);
The use of pesticides​ (14%);
Conditions and/or pay of workers (14%);
and ​Food hygiene (14%).

We also quizzed participants on their likelihood to scan food labels for more detailed and verified information on how food is made, something that will become possible with EU mandated Digital Product Passports (DPP). 69% responded that they would do this for 'certain items' (for things like meat, fish and luxury produce) while 20% selected 'all the time.'
These invaluable insights further boost our confidence of utilising blockchain technology to meet the ever-growing demand of consumers and to comply with future regulations in food industry.
The Savour Food Festival was an unforgettable experience for all. ''nChain support was instrumental in making the event a success. The volunteers brought to life the spirit of our charity, showing commitment and a readiness to help!'' Commended Shyam Matharu, Corporate Partnerships Manager at Roald Dahl's Marvellous Children's Charity. As a sponsor, we are immensely proud to have been a part of this remarkable celebration of food, culture, and community.