DistroMint customer story
At nChain we're more than just pioneers of the Web3 revolution—we're partners in innovation. That's why DistroMint, an upcoming disruptor in the music industry, chose to leverage our deep blockchain expertise and vast ecosystem to build its platform. 
We've collaborated to offer more than just technology; we've provided the tools and expertise to deliver a seamless integration of Web3 functionality while still ensuring a smooth user experience. Discover how our partnership with DistroMint is setting new standards in the development of blockchain applications and use cases to create a fairer and more inclusive society for all.
DistroMint is a revolutionary new blockchain music platform that aims to democratise artist discovery and music distribution. The platform is the brainchild of leading record producer E. Smitty who relied on nChain for our blockchain expertise, development and IP services needed to support his vision.

Our 200+ staff technology team drew on previous experience in designing and building Web3 music platforms to deliver DistroMint. We were also able to draw on the expertise of our wider ecosystem partners, Asset Layer and HandCash, to provide minting and authentication services that support the success of DistroMint's NFT and token-based platform.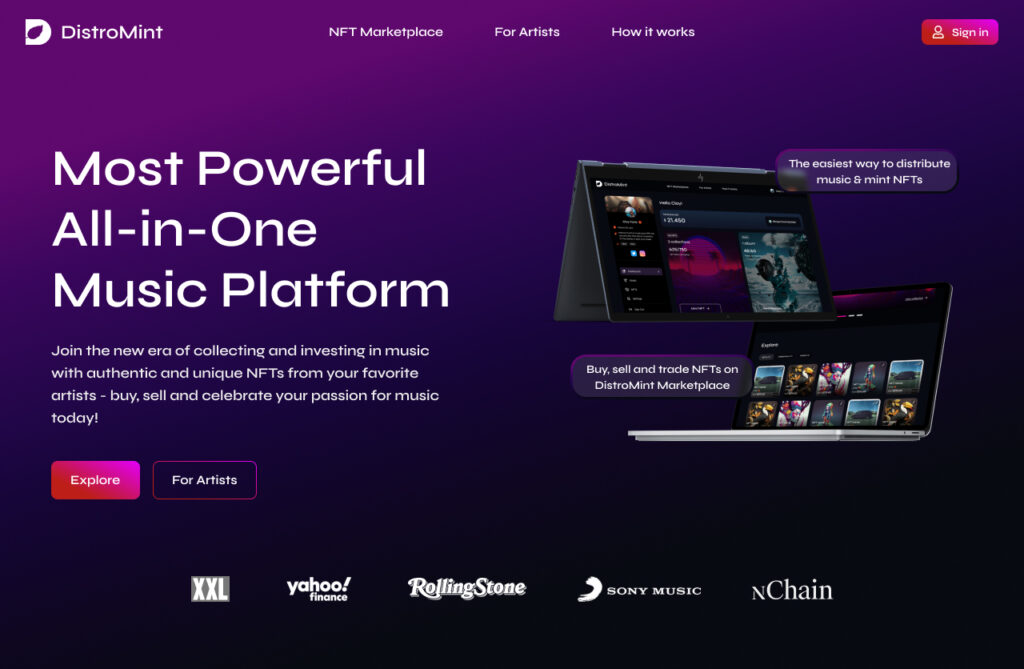 DistroMint is a music platform for artist distribution and discovery, providing fairer opportunities for artists to distribute their music across every major platform, including Spotify, Apple Music, and Tidal, and generate revenue from multiple sources. In addition, DistroMint Marketplace allows artists and their fans to join the new era of collecting and investing in music by enabling the minting and trading of authentic and unique NFTs. Through the democratisation of music distribution and discovery, our development of the DistroMint platform marks another use case leveraging blockchain technology and our extensive ecosystem to create a more fair and inclusive society.
As part of the project, we fused together both Web2 and Web3 solutions to help balance DistroMint's cost, security, and scalability requirements. The integrated solutions include the use of a new AI integration to protect against harmful content, as well as the functionality to mint assets using blockchain and store data records on AWS (for which a patent is pending). This approach demonstrates the pragmatic approach we take when developing blockchain-powered projects for our clients.
We're proud of how our partnership with DistroMint is creating the opportunity for fairer and more efficient business models in the music industry, realising the vision of E. Smitty and the potential of Web3 technology.
 "I have always had a passion for music and the democratisation of its distribution. It's been a dream of mine to create an honest and transparent platform that puts the power back in the hands of the artists. nChain helped me realise my goals with their extensive expertise in real blockchain use cases and their vision for the power of this technology to make the world a better place."

– E. Smitty
What's next for DistroMint and nChain?
After the successful and efficient build of the platform by nChain, DistroMint is now focused on launch and user acquisition with plans to work with nChain to add additional features such as a streaming service and BSV payments in the future.
For more information visit DistroMint here or follow them on X.